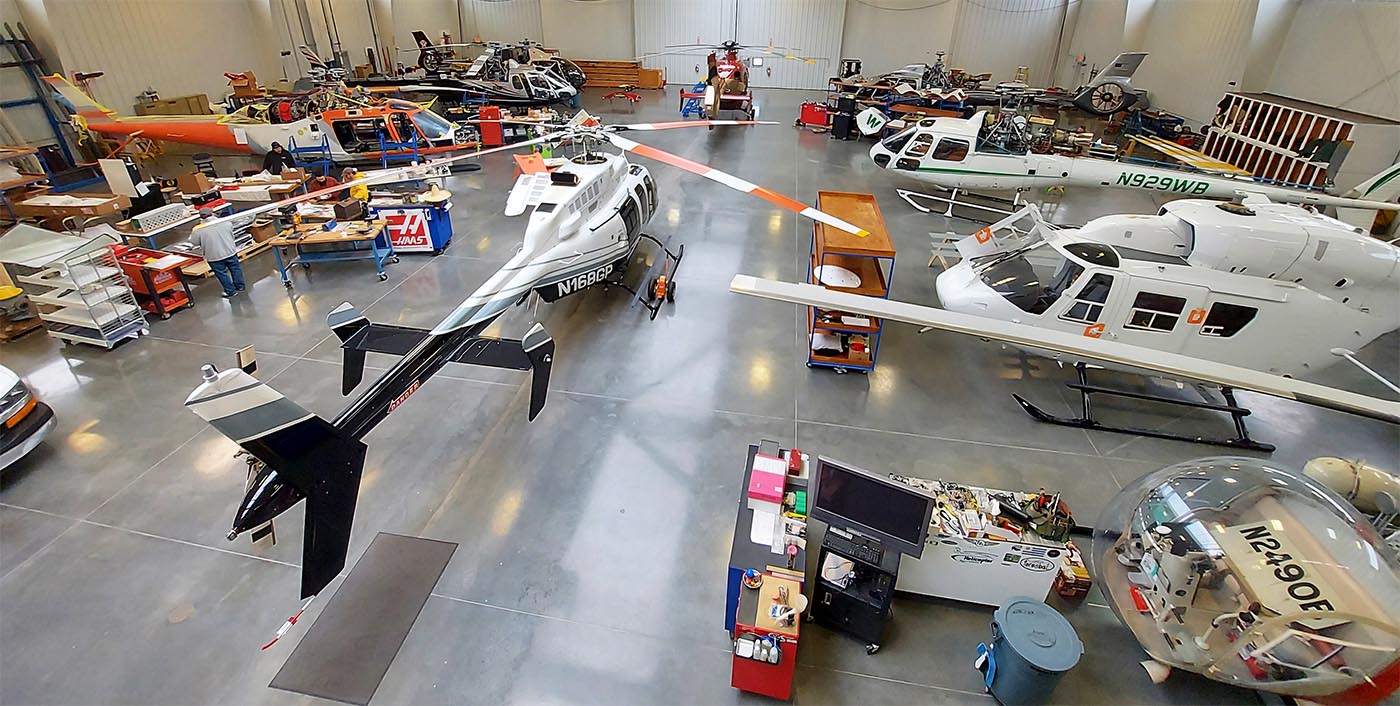 Helicopter Specialties finishes 2020 strong and begins 2021 at steady pace
Despite the challenges of 2020, Helicopter Specialties, Inc. (HSI) is pleased to have finished their 21st year in business on a strong note. 2021 is proving to be a strong year for HSI, with helicopters arriving at a steady pace at the Southern Wisconsin Regional Airport from air medical organizations, government, corporate, private and international customers.
Jim Freeman founded Helicopter Specialties in 1999 in a hangar on the Southern Wisconsin Regional Airport in Janesville, Wisconsin. The business has grown over the years and now encompasses two fully equipped hangars on the Southern Wisconsin Regional Airport.
HSI serves national and international customers utilizing the most up to date tooling, training and technology available in the industry. The work they provide includes custom interiors, heavy maintenance, avionics, engineering, structural repairs and painting for helicopters of all types. They stock an inventory of parts and components for a wide range of helicopter models. They also provide avionic services for airplanes.
Due to privacy agreements, they are unable to disclose many of the customers they perform work for, but are pleased to share some of the work they performed in 2020.
Airbus EC145 EMS Medical Completion for a national EMS program
(2) Corporate Bell 407 major avionic upgrades and heavy maintenance
(2) Designed and custom fabricated isolette stretcher systems for a national EMS program
Airbus AS350 heavy maintenance, repairs, and upgrades for a company based in Thailand
Airbus BO105 Heavy maintenance, repairs and export for a security company based in Trinidad, Tobago
HSI is proud to have been selected to perform air medical completions for (2) new Leonardo A109S Trekker helicopters for Life Link III, based in Bloomington, MN. These two aircraft will receive exterior/ interior paint, medical interiors, external lighting, and avionics upgrades to meet mission requirements.
Helicopter Specialties is an FAA Certified Repair Station with 24 helicopter models on its FAA repair station certificate, including Airbus, Bell, Enstrom, Robinson, Leonardo and MD.  They are an authorized Customer Service Facility for Airbus, Bell, Enstrom and Robinson Helicopters and Safran Helicopter Engines.
Now entering its 22 year of business, HSI is proud of the long-term relationships they've developed and continue to maintain in the helicopter industry. Over the years HSI has been recognized by the Wisconsin Aviation Trades Association as "Aviation Business of the Year". They have received multiple FAA "Diamond and Gold Awards" for Aviation Technician Training and Greater Beloit Chamber of Commerce Economic Development "EDDY Award".
Helicopter Specialties is located at Southern Wisconsin Regional Airport, 4710 S Columbia Dr, Janesville, WI 53546.