Enstrom Helicopter Service Center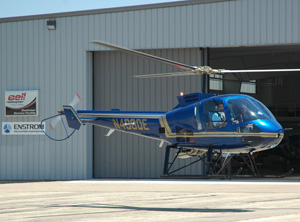 We are proud to be an Enstrom Helicopter Service Center. We have Enstrom factory trained technicians on staff who are ready to take care of the maintenance needs on your 480-series, 280-series, F28-series or TH28-series helicopters. Our close working relationship with Enstrom means we can provide the highest level of service on your helicopter.
Helicopter Specialties provides custom avionics, custom paint, structural repairs, composite repairs and custom interiors for your Enstrom helicopter.
Our experienced team of technicians strives to provide our customers with innovative, affordable, and timely service for their helicopters with the highest quality workmanship.
Custom Designed Capabilities
Avionics Installations and Upgrades
Aircraft Paint
Upholstery–pilot and crew seating
Night Vision systems
STC'd Quick Change Litter Kit
PARTS — Call Us for All Your Enstrom Helicopter Parts Needs!
We're experts at locating hard to find parts. We support F28, TH28, 280 and 480 models. Call 608-758-1701 or email mike@helicopterspecialties.net.