Helicopter Maintenance and Inspections
Helicopter Specialties has been awarded both FAA Diamond & Gold Awards for Excellence in the aviation maintenance technician awards program. We always strive for excellence in service, and continually train our personnel at manufacturer's schools. Our customers can be assured of thorough inspections and maintenance.
Service Center for:
Airbus Helicopters
Bell Helicopter
Enstrom Helicopter Corporation
Robinson Helicopter Company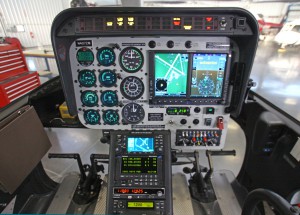 Custom Completions and Medical Interiors
Innovative custom medical interiors and completions are our specialty. Our team can develop an air medical interior or components designed exclusively for your program's needs.
Avionics and Airframe Electrical Installations
Working directly with you, our avionics team can design, engineer and install radio and navigation packages that best fit your needs, including new instrument panels and pedestals. Our service and customer support after the sale exceeds customer expectations.
We are Authorized Dealers for Garmin, Cobham/NAT, Technisonic, L3 Communications, Freeflight Systems, Latitude Technologies, Alpha Eagle Helmets, Sagem Avionics, Avidyne, Sky Connect, Becker Avionics
and Outerlink.
C
ustom Aircraft Paint
Our large modern paint facility includes two paint booths, giving us the capability to handle everything from the smallest to the very large twin-engine helicopters.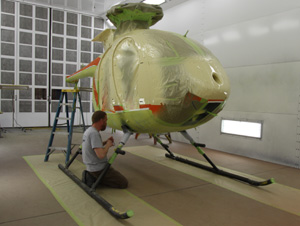 Whether your need is a simple N-number change, a new paint scheme applied to a green helicopter or a complete strip and paint, we will guarantee your satisfaction.
Laser Wire Marking
With state-of-the-art laser identification technology, Helicopter Specialties, Inc. can permanently mark a broad range of wire and cable jacket types and constructions to meet customer specific requirements. Visit our parts page for more information.
Structural Repairs
Our skilled airframe technicians can perform all airframe structural repairs from standard repairs as authorized by AC43.13 1B & 2B, to major repair schemes designed and approved by the Manufacturer's Engineering Department and FAA Designated Engineering Representatives.
Field Support Services
Our technicians are ready to provide maintenance and avionics support for your helicopter on-site or serve as backup mechanics for your operations.
Helicopter Parts Sales
Call our parts department for fast, competitive quotes for helicopter and engine parts. We have an extensive stock of Airbus, Bell, Enstrom and Robinson parts. Call us for all of your helicopter parts needs. Visit our Parts Page for more information.

Import/Export Preparation
Helicopter Specialties, Inc. has exported aircraft to:
Europe
Japan
Russia
South Africa
South America
We handle wrapping, crating, paperwork and freight.
Aircraft Consulting Services
You can be assured of sound advice from our helicopter experts in selecting the right aircraft for your specific needs. We can provide assistance in equipping the helicopter to meet your needs and continued maintenance support after acquisition.
Pre-Purchase Inspections
You want to make sure you purchase the right helicopter for your operation. We can perform a detailed inspection on previously owned aircraft allowing you to make an informed purchase decision.
"Industry vision, complemented with a top notch group of professionals makes HSI the new standard for quality."  — Brad Laws, Mayo Clinic – Mayo One