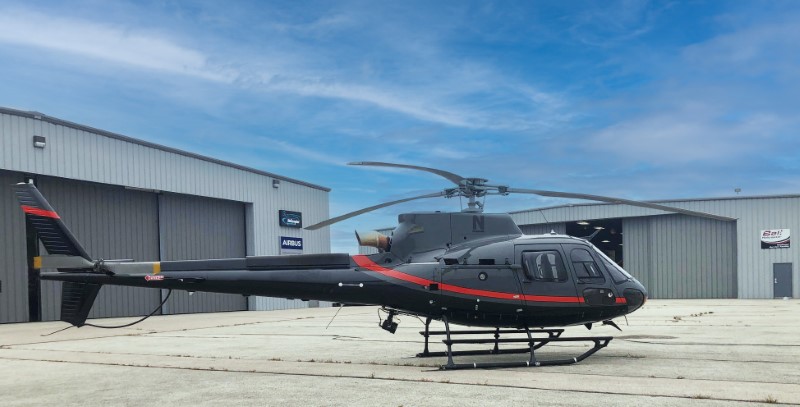 Janesville, Wisconsin | October 31, 2023 Helicopter Specialties, Inc. (HSI) recently delivered a new Airbus H125B3E helicopter completion to a private customer. The completion included a custom paint scheme and installation of mission-specific equipment including: Air Comm Air Conditioner, Aero Metals Engine Filter, Spectrolab SX-7 Searchlight, Grimes Searchlight, Onboard Systems Cargo Hook, Dart Vertical Reference Window, Dart Cargo Mirror, Dart Wire Strike Kit, Bulkhead Utility Attachments, Custom Upholstered Seats  iPad Recessed Mount with Charger, Custom Flooring, Custom Upholstery, ASU NVG, Garmin 650Xi, Garmin 5500 Radar Altimeter, Garmin 600H Autopilot, Garmin GDL69AH XM And Spider Tracks.
Helicopter Specialties is located at Southern Wisconsin Regional Airport and provides services for air medical organizations, government, corporate, utility, private and international segments. The work they provide includes custom interiors, heavy maintenance, avionics, custom fabrication, engineering, structural repairs, and painting for helicopters of all types. They also provide avionic services for fixed wing aircraft.
Helicopter Specialties is an FAA Certified Repair Station with 24 helicopter models on its FAA repair station certificate, including Airbus, Bell, Enstrom, Robinson, Leonardo, and MD Helicopters.  They are also authorized to service Safran, Honeywell/ Lycoming and Rolls Royce engines. They are an authorized Customer Service Facility for Airbus, Bell, Enstrom, Robinson Helicopters, and have many avionics dealerships as well.
HSI is proud of the long-term relationships they've developed and continue to maintain in the helicopter industry. Over the years HSI has been recognized by the Wisconsin Aviation Trades Association as "Aviation Business of the Year". They have received multiple FAA "Diamond and Gold Awards" for Aviation Technician Training and Greater Beloit Chamber of Commerce Economic Development "EDDY Award".